"Your two shows at Glenfair Elementary School today were the funniest, highest energy and most entertaining I've seen in my 16 years at this school.  Your message of perseverance and never giving up was one these kids need to hear over and over, but you presented it in a fun, accessible way.  Having so many kids participate in your tricks kept the interest and excitement high throughout.  We can't wait to have you back!"  
Chris Pierce, Title 1 Teacher, Glenfair Elementary, Reynolds S.D.
 Leapin' Louie has been performing super fun and energetic reading encouragement shows in schools and libraries for 20 years.  Always an audience favorite!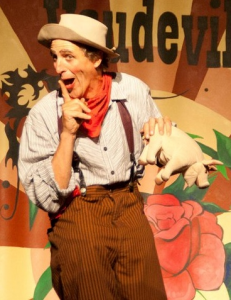 Three different shows!  All Leapin' Louie shows feature high energy physical and verbal comedy, lots of audience participation, cowboy rope tricks, juggling, magic, unicycle, and other stunts.  All are 50 minutes long and super fun!
 Read! Fun! Now!  This classic show features dual themes of reading encouragement and learning through making mistakes.   Classic super fun numbers like the giraffe unicycle, the four kid orchestra that accompanies juggling, lots of big lasso tricks, etc.
2. Elements of Fun!  Leapin' Louie is a high-energy bundle of carbon, oxygen, nitrogen, hydrogen, calcium, and phosphorous teaching chemistry and other science with big fun tricks.   This science show was new for 2014 and was very successful and still available.  Chemistry elements box juggling!  Find out what the solar system really looks like via ball spinning and running around.
3. Whoops!  Heroes Learn Through Making Mistakes!   The comic side of the superhero shall be explored. Captain Underpants, Harry Potter, Katniss, Percy, Wimpy Kid, they've all had their stumbles, and Leapin' Louie is going to be joining them with pratfalls, heroic tricks, and a message of perseverance.
Leapin' Louie makes kids love books!
Besides flying all over the world to perform Leapin' Louie shows, (29 countries so far) David is also a certified elementary school teacher with a life-long love of children's literature, so his shows contain  specific literature ties to about 10 great titles for each show.
I bring copies of a flyer with "Leapin' Louie's BEST BOOKS EVER" to distribute to every kid.  Here's that current book list with my all-time 74 favorite titles:  Best Books Flyer
These shows are designed as full assembly school shows in the gym or cafeteria.  They are also performed 25 times a year or so in libraries.  With small adaptations Louie has performed the six foot unicycle and rope tricks in tiny library spaces.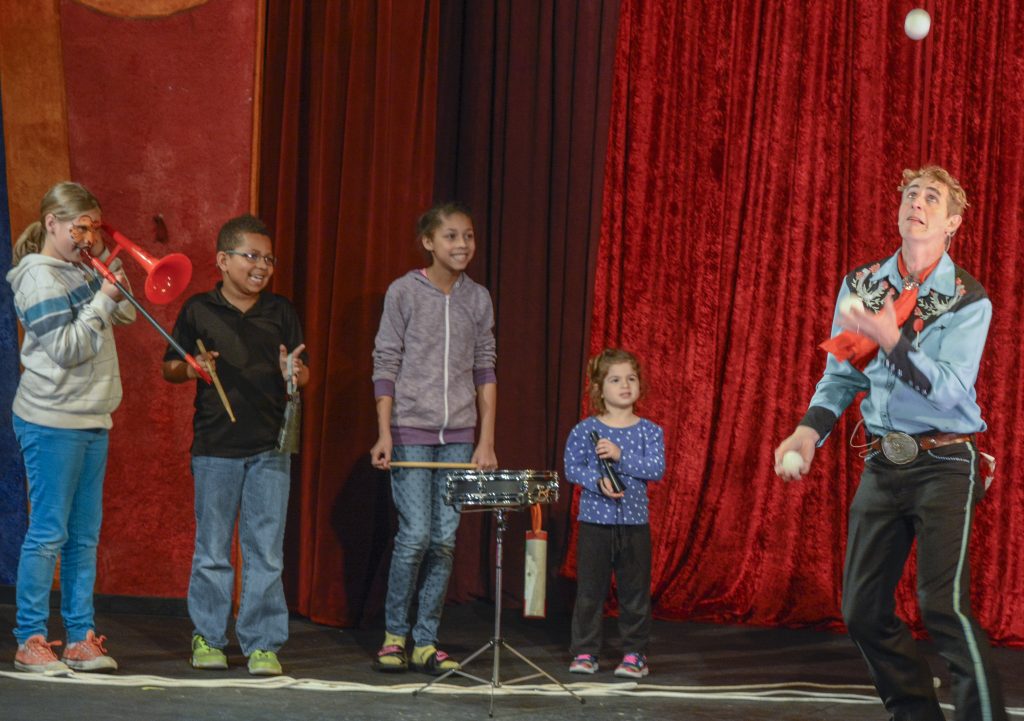 Here's an unedited video of an old Read! Fun! Now! 8 years back.  People still come up to me and tell me they saw this video on Cable Access TV:  Leapin' Louie Read! Fun! Now! at Oak Grove Library
"His humor is refreshing and unpredictable and universally appealing. He is a consummate performer whose skills are so impressive that he can hold the attention of any audience and make them want to learn to do what he can do."   — Don Walker Director, Kid Konnection Circus Project